Administration
Stephen Banks - Vice Principal
Carol Tovell - Vice Principal
Back to all posts
Posted on
FREE Gowns for Grads Event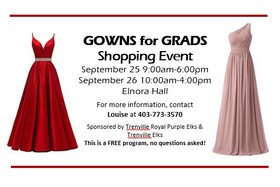 Saturday, September 25 from 9:00am-6:00pm and 
Sunday, September 26 from 10:00am-4:00pm, 
ELNORA HALL.
SPONSORED BY
Trenville Royal Purple Elks and Trenville Elks.
This program started in 2018 and to date we have given +420 gowns and 15 suits to deserving Grads.
THIS IS A FREE PROGRAM, NO QUESTIONS ASKED!
For more information, contact
Louise Higginbottom at 403-773-3570.