Administration
Stephen Banks - Vice Principal
Carol Tovell - Vice Principal
Back to staff directory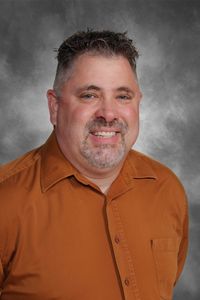 Teachers - Middle School
Phone: 403-749-3838
Key Roles
Hi there! My name is Derk Unterschultz and I am thrilled to be teaching your child for the 2020-2021 school year.
I have been married for 20 years to my beautiful wife, Karen. She grew up in Rumsey, not too far away from Delburne and we visit this area of Alberta frequently. We have 4 amazing boys: Ethan, 17, Markus, 14, Grayson, 12, and Dayne, 10. As you can imagine, our house is rarely quiet. We also have an 8-year-old dog named Cassidy and a female hedgehog named Charlie.
I have four passions in life: spending time with my family, waterskiing, watching and participating in sports, and using technology. I have coached many sports including football, basketball, and soccer, with a recent stint as a co-coach for our DCS Jr. High White Volleyball team.
I also love working at DCS; this is my fifth year here. The students here are fantastic! I taught Grade 3 four years ago, and middle school for the past four years. Prior to that, I have taught elementary school in Red Deer for 3 and a half years. It's such a thrill to watch them grow up.
Before returning to school in 2009 to get my Education degree, I have worked in the restaurant and automotive retail industries. I graduated with a First Class standing from Red Deer College / University of Alberta's Middle School years collaborative degree.
I am looking forward to working with your child this year. I plan to use my strengths in technology to help them grow in this field over the course of middle school. I plan to work individually with each student, and help them grow in their academics, their passions and become upstanding, innovative 21st Century citizens. I expect hard work, good behavior and a caring, positive spirit from my students — with these things comes much accomplishment and a joy of learning.